Bernard Tapie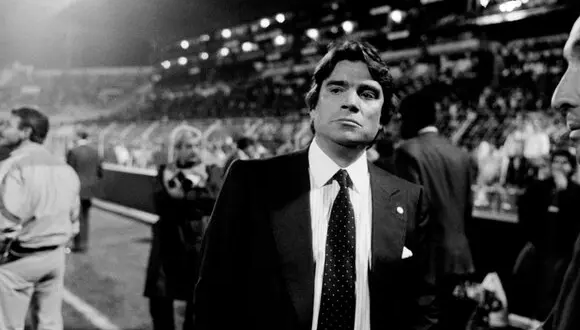 Bernard Tapie, French Tycoon, Actor and Politician, Dies at 78.
His larger-than-life career, flamboyant personality and ongoing legal struggles made him one of the best-known personalities in France.
PARIS — Bernard Tapie, a swaggering French businessman who lurched throughout his life from wild success to humiliation, knowing everything from high political office to the prison cell, died on Oct. 3 in Paris. He was 78.
The cause was cancer, according to a statement by his wife, Dominique Tapie. The announcement appeared in La Provence, a newspaper Mr. Tapie owned in the southern French port city of Marseille, where he was beloved because of the extraordinary success he brought its soccer team, Olympique de Marseille, after he bought it in 1986.
"He led a thousand lives," President Emmanuel Macron said in a message of condolence to the Tapie family, adding that Mr. Tapie's "ambition, energy and enthusiasm were an inspiration for generations of French people."
He started out as a singer — his singles included "I No Longer Believe in Girls" and "Quick, a Drink" — and dabbled in motor racing only to find himself in a coma after a crash, before turning to business in 1967 with a small company that sold televisions in eastern Paris.
 A domestic appliances venture followed, then something called "Heart Assistance," which was supposed to provide instant help to people with heart problems through a portable gadget that would summon an ambulance at the press of a button.
Mr. Tapie was convicted in 1981 of fraudulent advertising; the company had two ambulances, maybe, when it declared it had five.
About the same time, he was ordered by a French court to return four chateaus that he had acquired for a song from the fallen, self-proclaimed emperor of the Central African Republic, Jean-Bédel Bokassa, by persuading him — falsely — that they were to be seized by the French authorities.
Moving at speed in his personal and professional life — he had two children by a brief first marriage — Mr. Tapie specialized in rescuing and reselling troubled companies, from battery to bicycle manufacturers. With his La Vie Claire cycling team, he managed cyclists Greg LeMond and Bernard Hinault to victories in the Tour de France. He built a fortune. The summit of his business career came in 1990 with the purchase of Adidas, the sporting goods company.
As in many of his business adventures, however, Adidas would come to haunt Mr. Tapie. A long legal saga involving the company ensued, involving the sale of his majority stake to Credit Lyonnais in 1992; a lawsuit he had brought against the bank alleging that it had underpaid for the company; a payment to Mr. Tapie of $449 million awarded in 2008; and an order on appeal to repay that sum in 2017. The case remained unresolved at his death.
If anything, these judicial travails brought Mr. Tapie sympathy, especially after he was diagnosed with cancer in 2017.
In addition to his wife, he is survived by the two children from his first marriage, Nathalie and Stéphane; two children with his wife, Laurent and Sophie; nine grandchildren; and one great-grandson.
Even in poor health, Mr. Tapie continued to give interviews. He always had a gift for communication, grasping before his time that in the modern era it counted as much as anything. Like former Prime Minister Silvio Berlusconi in Italy, and later former President Donald J. Trump in the United States, he seized on television to cement his notoriety. He had his own television show, called "Ambitions," in the mid-1980s. Through it he did a lot to make words like "entrepreneurship" and "success" less suspect in a France that is always suspicious of the rich, self-made or not.
 These gifts drew him to President François Mitterrand, who asked to meet Mr. Tapie in 1987 and saw in him a showman who could be an effective communicator for the left, using simple, raw language. A debate in 1989 between Mr. Tapie and the hard right anti-immigrant leader Jean-Marie Le Pen remains legendary for Mr. Tapie's demolition of his opponent.
Addressing a meeting of Le Pen's National Front party in 1992, Mr. Tapie, who had been elected to Parliament as a representative from Marseille in 1989, postulated the idea of seizing immigrants, piling them into a boat and sinking the boat off the coast of France. There was wild applause, according to an account by the writer André Bercoff.
Mr. Tapie deadpanned: "I made no mistake about you. I just spoke of a massacre, and you applauded. Tomorrow, take a look at yourselves in the mirror while you shave or put on makeup and just throw up."
Mr. Mitterrand made Mr. Tapie minister for town planning in 1992, but he had to resign after 52 days as a result of yet another legal problem. The case was resolved in Mr. Tapie's favor, and he returned to the government in 1993, but the defeat of the left that year ended his ministerial career.
There was still time for further ventures, including Mr. Tapie's acquisition of the La Provence newspaper. His acting career revived with a Paris theater performance in "One Flew Over the Cuckoo's Nest" in the mid-1990s. Close to former President Nicolas Sarkozy, he became a frequent visitor to the Élysée Palace between 2007 and 2012. His opinions — on business and the affairs of the world — were sought after and reported on, even in his last years.
"For the French to love you again, it suffices to get sick," Mr. Tapie commented. The national mourning and considerable adulation at his death seemed to prove him right.
Roger Cohen is the Paris Bureau Chief of The Times. He was a columnist from 2009 to 2020. He has worked for The Times for more than 30 years and has served as a foreign correspondent and foreign editor. Raised in South Africa and Britain, he is a naturalized American. 
@NYTimesCohen
Font: NYT