Inside La Samaritaine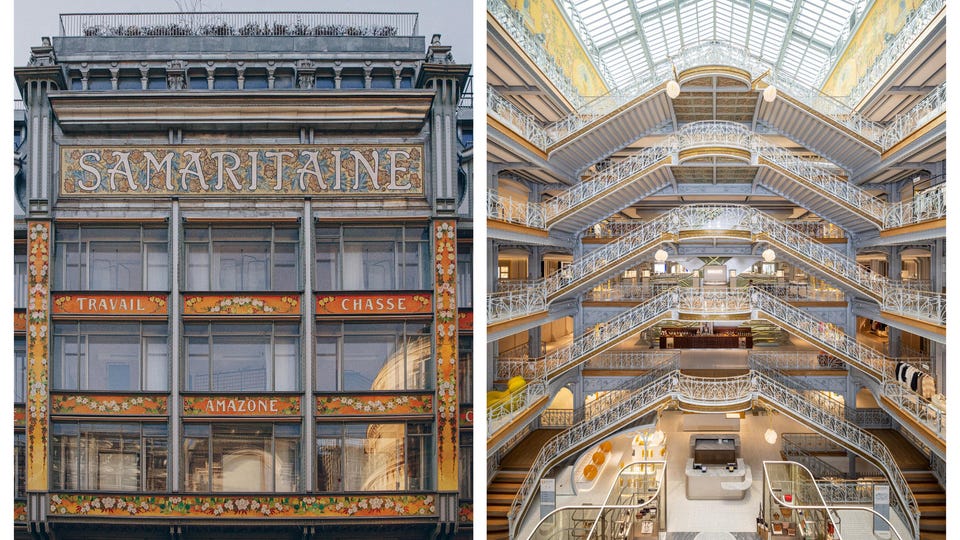 Inside La Samaritaine: Paris's Iconic Department Store Reopens After 16 Years
After a 16-year wait, Parisians will finally see their city's 19th-century Samaritaine department store reopen its doors today. A much-anticipated event, the closed-off landmark left a gap on the city skyline between the Seine River and busy Rivoli high street.
Owned by French luxury conglomerate LVMH, which partnered with luxury retailer DFS, the Samaritaine Paris Pont-Neuf's renovation is rumored to have cost as much as $750 million. The original Art Nouveau building was painstakingly restored while the new contemporary wing built from scratch, which took more than five years to complete. Today, the signature sunflower-yellow sign slotted in at the top of the glass and wrought iron building has been dusted off and gleams in the sunlight, signalling the building is open for business once again.
A Historic Icon
Bringing The Paris Streets Inside
Inside Paris' New $195 Million Art Museum, The Bourse De Commerce
St. Barts Travel: 7 Things Not To Miss When Visiting the Island
Local Voluntourism In MidCoast Maine: Redefining Travel In Covid Times
A beacon for French fashion, the Samaritaine has seven floors (including the basement and ground levels) and two interlinking buildings. Strolling through the levels feels very much like being outdoors, thanks to natural light pouring in through glass ceilings and wrap-around windows inviting in staggering views of the rooftops and buildings previously gone unnoticed like the magnificent Church of Saint-Germain-L'Auxerrois. Accentuating that feeling are nods to the Paris streets, like an abstract floor pattern of cobblestones and a playful, colorful, take on the city's iconic street lamps. The result is an experience that feels like the continuation of a walk though the streets.
A Glimpse of Each Floor
As they enter, shoppers are met by swirling wrought iron staircases that roll up to each floor. The Eiffel structure's iron details – previously dark green – is now a luminous light gray, part of the Samaritaine's new signature palette.
The basement is scattered with beauty brands, from Parisian staples to more offbeat, hard-to-find ranges as well as natural beauty products. There's also a Cinq Mondes spa, and various services including a hair salon. On the ground floor, the Loulou concept store offers gifts for a range of budgets, as well as a handbags and accessories department. Upstairs is women's fashion, watches and jewelry, men's fashion and women's shoes. Packed with high-end brands as well as more niche labels, the objective is for shoppers to be able to also discover lesser-known designers.
Where the store breaks the mold though is in its tightly curated brands, meaning that instead of having multiple concessions each with its own identity, there's a refreshing unity that makes the shopping experience pleasant and relaxing rather than it being a frenetic dash to take in numerous brands' bulging racks.
Ushering In Contemporary Tastes
While the Samaritaine's new building had a fraction of Parisian in uproar, its glass front sending shock waves through the city, the sleek structure was built to replace a dilapidated building without any real historical interest. It was torn down and rebuilt entirely by Japanese outfit Sanaa. A playground for the latest streetwear brands, the wing will host corners and pop-ups curated by young, urban designers as well as several Insta-ready corners for snap-happy shoppers.
The VIP Apartment
If you're in the Samaritaine personal shoppers' little black book, then you'll be invited to shop from this private apartment kitted out with brightly colored rugs and bespoke furniture by designers Chloé Nègre (behind several hotels in Paris), Karine Chahin, and Virginie de Graveron, who met during their time at India Mahdavi's studio.
The Food Scene
Ernest and Voyage, the two leading dining spots at the Samaritaine, are tucked under the great big slab of sky apparent through the glass roof and enormous signature bright blue peacock mural. For shoppers who don't want a sit-down affair, there are 10 other more casual options, from tea salons to a coffee shop which roasts its own beans, and a bakery where an army of bakers make fresh bread daily, supplying all the building's outlets.
Le Cheval Blanc Hotel
Separate to the department store, is the much-awaited five-star Cheval Blanc Paris hotel, which will have four restaurants and a Dior spa. It's slated to open on September 7 with 72 rooms and suites offering Seine River views at a starting rate of just over $1,700 (1,500 euros).
Like the rest of the city, the Samaritaine awaits the steady flow of tourists that usually flood the streets of Paris. But until then, Parisians get to have their newly reopened Art Nouveau marvel all to themselves, which is the finest luxury of all.
Font: forbes