Jean-Paul Belmondo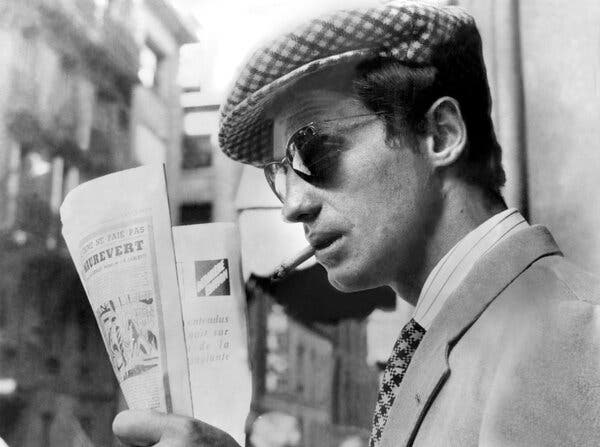 Jean-Paul Belmondo, Magnetic Star of the French New Wave, Dies at 88
He was compared to Marlon Brando and James Dean for his acclaimed portrayals of tough, alienated characters, most memorably in Godard's "Breathless."
Sept. 6, 2021
Jean-Paul Belmondo, the rugged actor whose disdainful eyes, boxer's nose, sensual lips and cynical outlook made him the idolized personification of youthful alienation in the French New Wave, most notably in his classic performance as an existential killer in Jean-Luc Godard's "Breathless," died on Monday at his home in Paris. He was 88.
His death was confirmed by the office of his lawyer, Michel Godest. No cause was given.
Like Humphrey Bogart, Marlon Brando and James Dean — three American actors to whom he was frequently compared — Mr. Belmondo established his reputation playing tough, unsentimental, even antisocial characters who were cut adrift from bourgeois society. Later, as one of France's leading stars, he took more crowd-pleasing roles, but without entirely surrendering his magnetic brashness.
Like Bogart, Mr. Belmondo brought craggy features and sometimes seething anger to the screen, a realistic counterpoint to more conventionally handsome romantic stars. Like Dean, he became one of the most widely imitated pop culture figures of his era. And like Brando, he was often dismissive of pretentiousness and self-importance among filmmakers.
"No actor since James Dean has inspired quite such intense identification," Eugene Archer wrote in The New York Times in 1965. "Dean evoked the rebellious adolescent impulse, as fierce as it was gratuitous, a violent outgrowth of the frustrations of the modern world. Belmondo is a later manifestation of youthful rejection — and more disturbing. His disengagement from a society his parents made is total. He accepts corruption with a cynical smile, not even bothering to struggle. He is out entirely for himself, to get whatever he can, while he can. The Belmondo type is capable of anything."
His leading role in "À bout de souffle" — released in the United States in 1961 as "Breathless" — was instantly recognized as trendsetting; subsequent imitators only cemented its importance. Mr. Belmondo's mop of unruly hair, the way he peered at the world through a twisting web of cigarette smoke, and the way he obsessively massaged his thick, feminine lips with his thumb were so vivid and evocative that they quickly became global signposts of rebellion.
Mr. Belmondo in "Breathless." His on-screen mannerisms became global signposts of rebellion.Credit…Films-Around-The -World
Mr. Belmondo was 26 and Mr. Godard was 28 when "Breathless" was being made. The film was based on an idea by François Truffaut, another icon of the nouvelle vague, and began shooting in Paris without a script. Mr. Godard used a hand-held camera — except in the street scenes, when he would sometimes mount the camera on a borrowed wheelchair — and let everyone improvise. The resulting film was rough and ill-shaped, but it had a sense of emotional honesty and verisimilitude that made it electric. Many mainstream critics seemed unsure what to make of it.
Bosley Crowther wrote in The Times: "It goes at its unattractive subject in an eccentric photographed style that sharply conveys the nervous tempo and the emotional erraticalness of the story it tells. And through the American actress, Jean Seberg, and a hypnotically ugly new young man by the name of Jean-Paul Belmondo, it projects two downright fearsome characters."
Many critics found Mr. Belmondo's amoral antihero a little too strong. But others found in the role a raw truthfulness and a thematic boldness at odds with the bulk of what was coming out of Hollywood studios.

Jean-Paul Belmondo with Jean Seberg in a scene from Jean-Luc Godard's New Wave classic "Breathless."Credit…Raymond Cauchetier
Fonte: nytimes.com