Stars or no stars?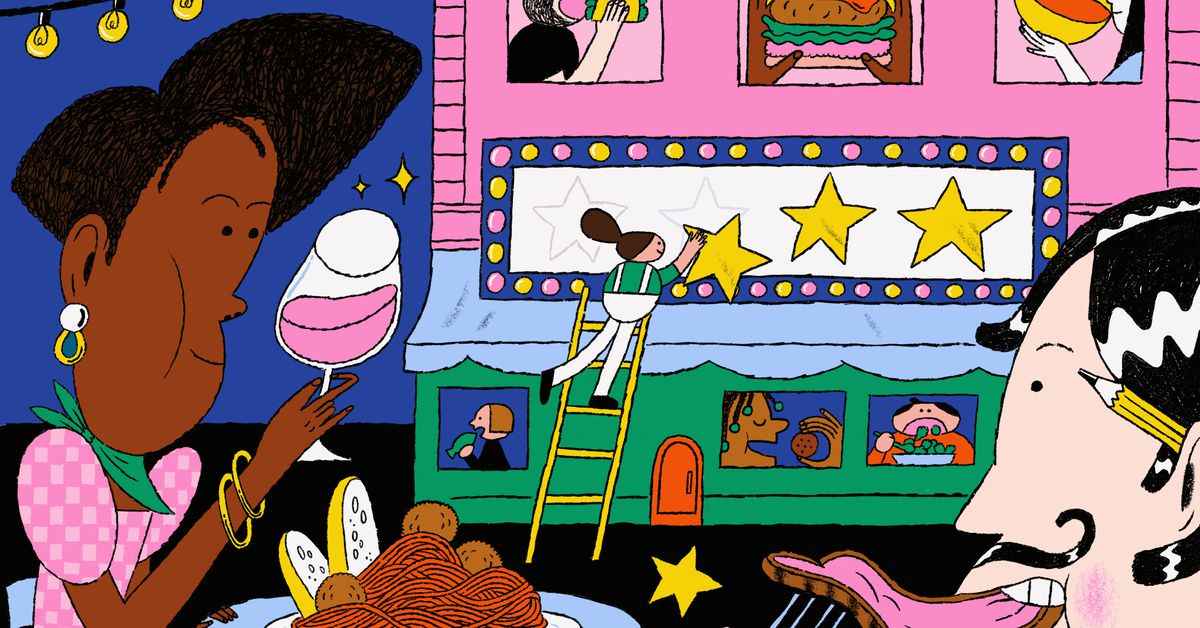 We're Getting Rid of Starred Restaurant Reviews at Eater
It's not yet clear what type of reboot the restaurant industry will get as it slowly returns to normal — especially after a pandemic that brought to light many of its inequities — but we're hitting the reset button on this aspect of food criticism
One morning about 10 years ago, an old flame sent me off to work with a small container of turkey chili. I microwaved it for lunch, ate it rapidly, and praised the chef in a glowing Facebook post. She seemed quite pleased, but went on to ask, in the comments section, how many stars I would give it. After careful consideration, I decided to award two stars, and left the well-deserved rating in the semi-public thread.
The compliment was not received as well as I'd hoped. "Why only two?" she asked, a question that, as best as I can recall, prompted me to expound upon the standard four-star restaurant review system employed by the likes of the New York Times, Washington Post, and, at the time, yours truly. I tend to hover around one star for a good restaurant with a hit-or-miss menu, two stars for an all-around high-performing restaurant, and three stars for a more select group of ambitious, best-in-class venues. Most critics, myself included, rarely use four stars or zero stars more than once a year. And so if I'm giving a really good brasserie, pizzeria, or Cuban spot two stars — places staffed by folks who've dedicated their lives to cooking for others — such a designation would be a heck of a win for a spicy homemade stew, I assumed.
I've meditated upon that embarrassing interaction over the years, and while there's obviously something to unpack about my interpersonal skills of yesteryear, the larger lesson is that even when a critic capably wields the primary weapon in their arsenal — words — the starred rating at the end of a review can still cause more confusion and disappointment than clarity. So I'm happy to say we're getting rid of stars at Eater.
Like most publications, Eater has refrained from issuing stars during the pandemic. Using a rating system to score someone's work often doesn't jibe with the realities of an industry where simply staying in business and protecting one's staffers are the chief goals. But the past year has also led me to wonder whether stars really jibe with good food criticism at all, and whether we're better off permanently dropping this blunt instrument that doesn't evolve as dynamically as our language or our values.
Stars, of course, have tended to favor more expensive establishments at the highest levels. Every current four-star review from the Times or this critic — or three-star review from Michelin in New York — is a $150-per-person-plus European- or Japanese-leaning tasting-menu spot. And while local outlets have awarded two or three stars to more affordable spots like pizzerias and taco trucks, sometimes publications default to a fully non-starred format for those venues, be it the Bib Gourmands at Michelin, Hungry City at the Times (which has not been published since March 2020), or First Look and Buy Sell Hold at Eater. It's all enough to make a reader legitimately ask whether there is a separate class of food reviews here, particularly for less stereotypically prestigious spots.
Eater is far from the first outlet to leave the star party. Soleil Ho, restaurant critic at the San Francisco Chronicle, announced two years ago that she'd be dropping the newspaper's star ratings. "Since I plan to write reviews of everything notable that I find in the Bay Area…I believe imposing a star rating system that purports to put all of those things along the same spectrum would do a disservice to all of them," she wrote in the winter of 2019, a sentiment I agree with. The Los Angeles Times dropped starred ratings in 2012 after Jonathan Gold rejoined the paper; subsequent critics Bill Addison and Patricia Escárcega (who has since departed) continued that policy. And Tejal Rao hasn't issued stars since she took on the role of the New York Times California restaurant critic in 2018
All told, most (but not all) West Coast reviewers have been publishing critiques without stars for years, and some of their most innovative work feels alive and meaningful in ways that wouldn't be possible if those missives were colored by a hierarchical system created over half a century ago. Rao's separate pre-pandemic takes on Guatemalan street vendors and a spendy San Francisco Thai spot both come across as especially powerful given how the critic deployed comparably eloquent language — with careful attention to culinary technique — across the two very different columns.
Fonte: ny.eater.com